Assalamualaikum
Lagi 2 hari kita nak tinggalkan Ramadhan. Alhamdulillah segala persiapan zati dah siap. Sibuk kemas rumah , siapkan apa yang patut untuk raya ni , badan memang sakit-sakit lah. Terutama tangan , kaki, tengkuk.
Kat rumah ni kami memang dah biasa pakai
Ammeltz Yoko Yoko
. Zati suka guna yang warna biru. Rasanya Yoko Yoko ni ada 2 jenis , merah dengan biru.
Selalu beli yang ni
Kalau lenguh tengkuk ke, kaki ke,memang lega lepas sapu yoko ni. Berangin je rasa. Harga ni Zati beli kat Watson RM13.90 . Lain tempat lain harga. Yang ni 48ml .
Banyak jenis produk dari syarikat
KOBAYASHI
ni.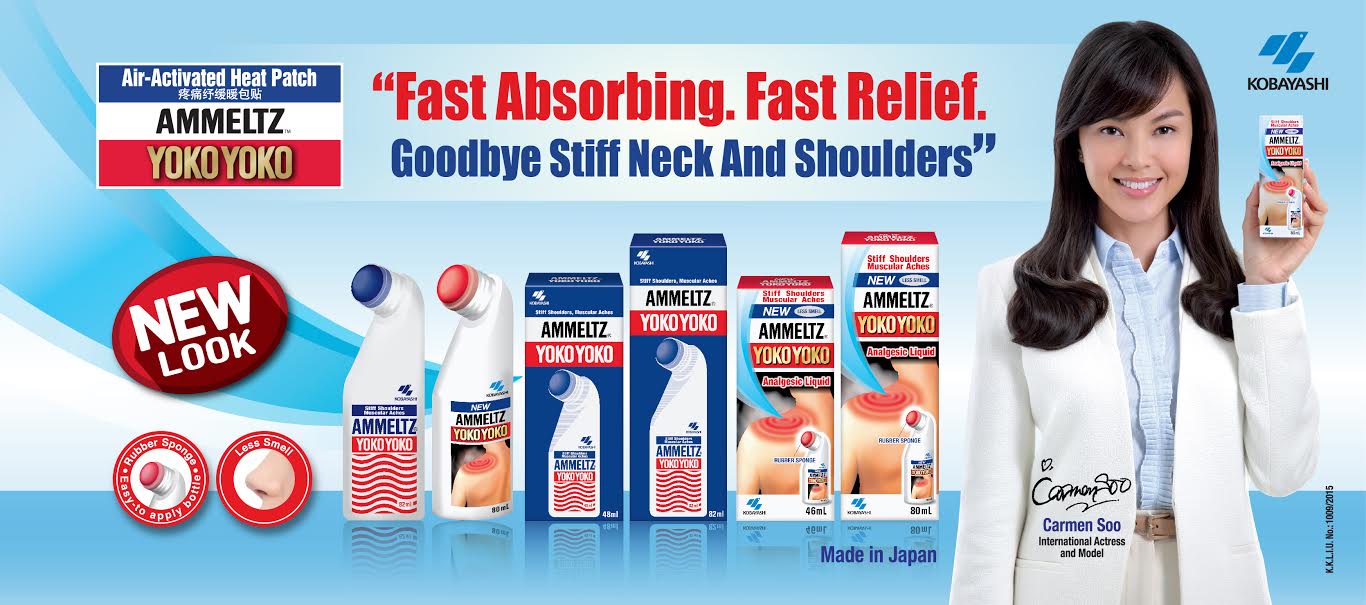 Gambar dari Kobayashi Page
Specially formulated to thoroughly seep into affected parts, to help relieve shoulder stiffness and muscular aches effectively over a longer lasting period.

Unlike normal plaster, there's no inconvenience of peeling it off. It can be applied on hairy skin areas, joints, perspiring area etc. AMMELTZ contains with no grease, hence it is not sticky.

Easy-to-apply bottle, Japan's most sale-able antiphlogietic and analgesic liquid for external usage. Modified bottle shape for easier handling and application. It can reach any affected part of your body perfectly, even hard-to reach areas like the back and/or hip.
Recommendable for shoulder stiffness and muscular ache. Newly-formulated which contains Benzyl Nicatinate and Vanillylamide Nonylate as active ingredients relieves shoulder stiffness and muscular aches.

Less Smell formulated. The new formulated NEW AMMELTZ YOKO YOKO is now less smell. For those who dislike strong smell may now enjoy without worried with this new less smell formulation.

Bending shape easy to apply. With improved bending neck shape bottle for easier handling and may perfectly reach any affected parts of body, even on the back and/or hip.
Itu lah antara perbezaan yang merah dan biru. Memang recommended sangat untuk korang yang selalu mengalami saki-sakit sendi atau lenguh-lenguh tu. Jimat pon jimat , senang bawa kemana-mana. Tak mudah tumpah.
Kalau korang nak info lanjut lagi pasal produk-produk dari Kobayashi ni , korang tengok je web dia. --> https://kobayashi-my.com/