Assalamualaikum
Hah, ni terjadi kat Zati benda ni. Punca nya dok mengemas bilik,lepas tu terjumpa lah memory card lama, ada 3 pulak tu! Dengan excited nye lah masuk kan kat laptop , kekonon nak throwback gambar-gambar lama dulu, sekali memory card tu dah jahanam lah. Tak boleh nak open dan tak boleh nak format.
Lepastu zati teringat adik pernah jadi perkara yang sama jugak. Tapi pendrive dia corrup. So zati pon whatsapp dia tanya macam mana dia buat. Dan jawapan dia agak stress lah haha. Bagi tahu sikit je, lepastu cakap tak ingat. Okay lah, zati pon dok google lah, then jumpa satu website ni. Try buat and alhamdulillah menjadi! Jum tengok cara dia kat bawah ni.
Pembaikan SD Card rosak atau Pendrive menggunakan Windows Explorer
1. Open My Computer atau This PC
2. Right-click pada device yang corrupted tadi
(pastikan korang dah connect lah SD Card atau Pendrive korang)
3. Klik Format pada list menu
4. Klik Restore Device Defaults
5. Klik Start untuk memulakan format. Korang boleh juga untick pada Quick Format kalau korang nak ianya deep scan SD Card atau Pendrive korang tu. Proses ni agak mengambil masa.
6. Akhir sekali klik Ok dan tunggu sehingga proses format selesai.
Pembaikan SD Card atau Pendrive rosak menggunakan CMD
Untuk proses ni, kita akan beri arahan pada Windows melalui CMD.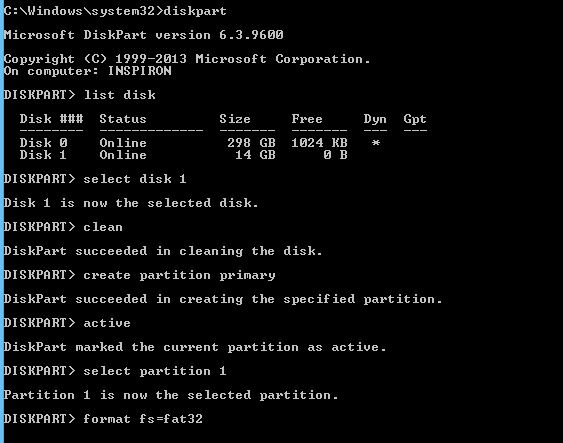 1. Connect SD Card atau Pendrive yang rosak tadi ke Pc atau Laptop
2. Klik search kat task bar korang tu, then cari CMD
3. Taip diskpart dan tekan enter
4. Taip list disk dan tekan enter. Akan keluar list device yang connected dengan PC atau Laptop korang
5. Taip select disk <the number of your disk> dan tekan enter. Example: (select disk 1) IMPORTANT!! Pastikan pilih nombor yang betul, sebab jika salah pilih korang berkemungkinan akan padan hard drive PC korang! Unruk double checked , taip list sekali lagi dan akan keluar list disk korang, dan pada disk yang korang pilih tu akan ada tanda * dihadapan nama Disk tu.
6. Taip clean dan tekan enter
7. Taip create partition primary dan tekan enter
8. Taip active
9. Taip select partition 1
10. Taip format fs = fat32 dan tekan enter. Proses format akan selesai dalam beberapa minit. Korang boleh taip NTFS kalau saiz file tu lebih dari 4gb. Jangan tutup CMD selagi proses belum selesai.
Itu je cara nya. Harap dapat membantu korang ye!