Timeless Fashion Pieces That Will Never Go Out of Style
Fashion industry is one industry that keeps innovating and changing a lot. Keeping up with the latest trend becomes quite a hectic job. Having said that, there are some fashion pieces & styles that have been around since ages. You will find these timeless fashion pieces in every wardrobe. We have prepared a list of such timeless pieces for you; check out how many of these do you own.
White T-shirt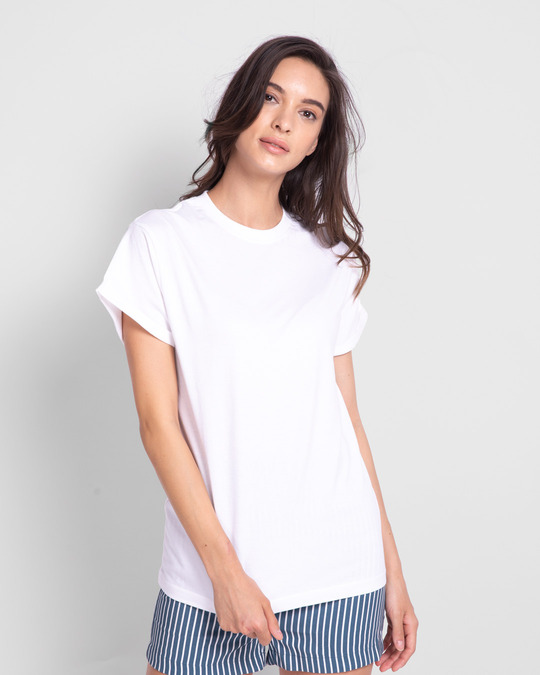 Pic Credit: https://www.bewakoof.com/p/white-boyfriend-t-shirt-for-women?utm_source
You will find a white tee shirt in all the wardrobe, no matter what; a person can be a fashion fiend or not fashionable at all, but a good white t-shirt is something that you will find in every person's wardrobe. This is quite a simple trend and an effortless one at that. This has become timeless because you can pair it up with literally anything. You can wear a jacket above it, tug the t-shirt in your pants, wear a scarf over the shirt (and style it in hundred other ways!).
Denim Jeans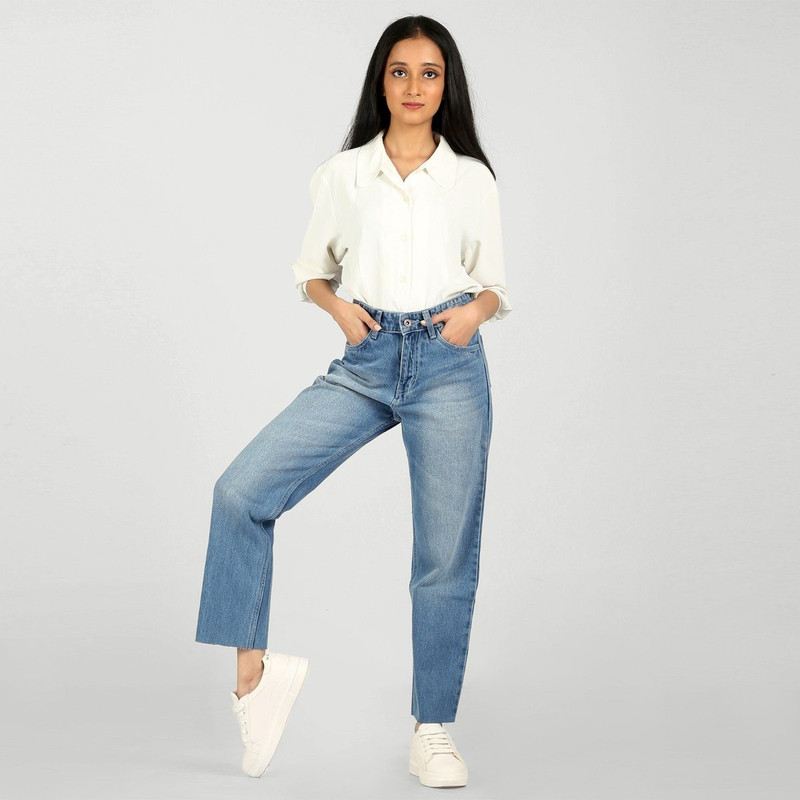 Pic Credit: https://www.madish.in/products/straight-crop-ice-blue-high-rise-jeans?variant
You cannot, not have a pair of denim jeans in your wardrobe! I prefer a blue one. It has been a go-to style for male and female since time immemorable. Yes, the styling of a denim got influenced with time (sometimes its ripped, sometimes its bell bottom, sometimes its distressed, etc), but denim still remained. Denim rather, got evolved in terms of comfort, style and design. If you want to own a piece of timeless fashion, go for a straight fit pair of jeans; it works everywhere.
Sunglasses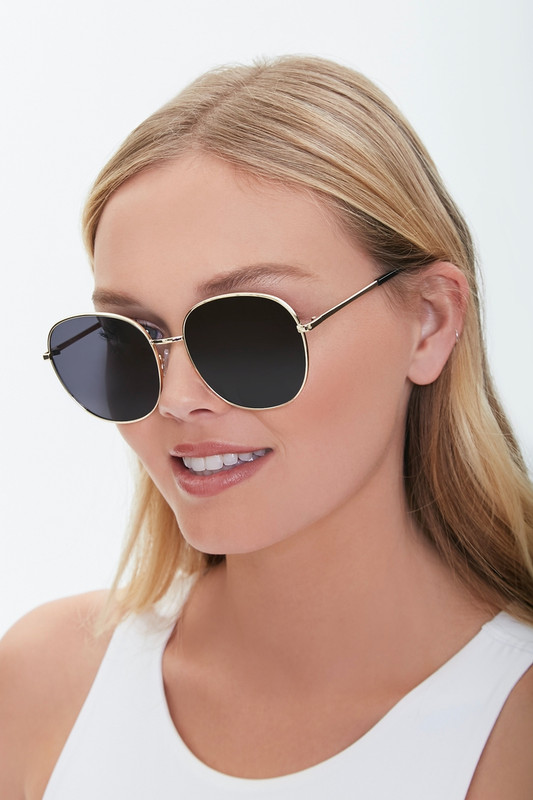 Pic Credit: https://www.forever21.in/p/round-metal-sunglasses-584556.html
Aviator sunglasses was created in the year 1936, especially for pilots so that they can maintain their eyesight while flying high. The product was created as a product of necessity but has become a thing of fashion, and a timeless one at that! If you still do not own a perfect pair of shades then you need to get one. Get something that suits the shape of your face. Shop The products from Zalora Asia's leading fashion store, use the coupons to make sure you save pretty good amount on your cart.
Sports Shoes
The recent trend is to wear white sports shoes with Indian ethnic wear! I know, its bizarre but kind of looks cool. Now, we do not associate sports shoes and sneakers only to work out and gym sessions. The scope and meaning of this fashion piece, have expanded and there is a whole section of a fashion store dedicated to this product. You can pair up your shoes with any ensemble of your choice. You can go for a white colour shorts shoes, because they work with everything you wear.
Three-piece suit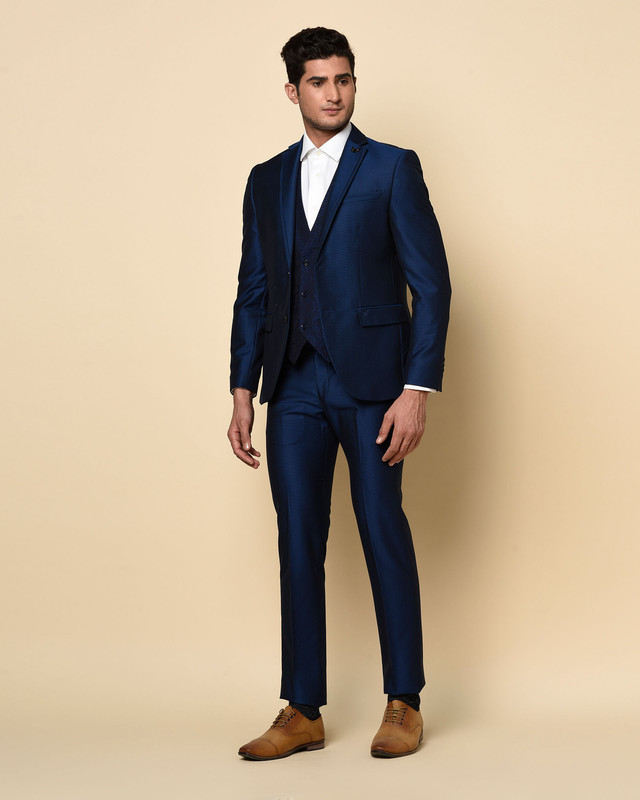 Pic Credit: https://blackberrys.com/products/id/3-piece-ceremonial-wedding-partywear-suit-in-slim-fit-with-reversible-waistcoat-nl-do-seneta3-navy
Three-piece suit has been around since decades and you can don it in formal as well as informal occasions. The matter of fact is, they aren't even going anywhere! There are a lot of options available in the market; right from D&G to Armani, every premium brand offers an array of three-piece suit option. Every designer, designs this particular fashion piece, in their own way. This looks absolutely wonderful in all kinds of special occasions; quite an elegant choice for special occasions. Pair it up with a good sleek tie and a matching pocket square.
Blazer
Blazers are quite versatile in nature. You can wear them on top of t-shirts, shirts, turtleneck sweaters, etc; they go well with jeans, skirts, midis, minis, etc. You can wear these in formal occasions and in informal occasions. The best part about this fashion piece is that they look good on all body types. If you want to highlight your waistline, you need to find a piece that is custom made for you. Black, brown, beige, red, etc are some of the evergreen blazer colours that you can don in any occasion.
Watch
How can you not have different kinds of watches in your closet? There are watches for professional meetings and then there are totally different ones for casual outings. Watches used to be thing of usage but now we use it as accessory. Various watch brands are designing watches that look more like a fashion accessory and less like a watch. A good watch definitely adds an edge to your whole style.
Hats
This is a fashion staple that has been around for 400 years (at least we have counted till that far!). The size, shape, pattern, etc of a hat has always been determined by a place, tradition and religion. There were times (we are talking about 20s) when women used to wear cloche hats; traditions have changed but the basic fashion product remained the same.
Little Black Dress
Little black dress for a female is again a staple in the fashion wardrobe. You could be of any era; you will never go wrong with this fashion piece. If you accessorize it correctly, you can be the centre point of any party!